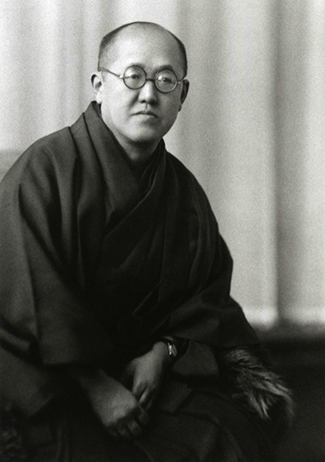 "I do not paint subjective impressions. My work is based on reality...I can not falsify...(but) I can simplify…I make mental impressions of the light and color at the time of sketching. While coloring the sketch, I am already imagining the effects in a woodblock print."
— Kawase Hasui
Kawase Hasui (1883–1957) is the most celebrated 20th-century Japanese print designer of the shin-hanga ('new prints') movement pioneered by the renowned publisher Watanabe Shozaburo. Hasui worked almost exclusively on landscape and townscape prints based on sketches he made in Tokyo and during his travels in Japan. His subjects are not only 'meish?' (famous places) prints which were typical of the earlier ukiyo-e masters such as Hiroshige and Hokusai, but also feature tranquil and picturesque scenes in obscure locations. Hasui considered himself a realist and employed his training in Western painting to create his lyrical renderings with naturalistic light, shade, and texture. Hasui was able to evoke the fleeting beauty of Japan during the interwar period as no other printmaker of his time could.
Hasui's work enjoyed huge popularity upon producing his first print in 1918. Watanabe recognized and developed the enormous potential of the American market, resulting in Hasui's prints achieving high prices at auctions in New York as early as the 1920s. After the Second World War, his prints became highly sought-after collectible works among the American occupying forces in Japan. Hasui designed more than 600 prints during the 40-year span of his artistic career, and in 1956, he was named a 'Living National Treasure' of Japan.
Hasui's woodblock prints are included in many important museum collections of Japanese prints worldwide, including the Art Institute of Chicago; British Museum; Brooklyn Museum; Clark Art Institute; Cooper Hewitt, Smithsonian Design Museum; Freer Gallery of Art; Harvard Art Museums; Indianapolis Museum of Art; The Israel Museum, Jerusalem; Japan Ukiyo-e Museum, Matsumoto, Japan; Los Angeles County Museum of Art; Metropolitan Museum of Art; Minneapolis Institute of Art; MOA Museum of Art, Japan; Museum of Fine Arts, Boston; Nelson-Atkins Museum of Art; Portland Art Museum; Stanley Museum of Art; Toledo Museum of Art; Tokyo Museum Collection, Japan; University of Michigan Museum of Art, Walters Art Museum, Smart Museum of Art; and the Virginia Museum of Fine Arts.